About a month and a half ago I was paroling
etsy
for some unique Christmas gifts for family and friends, also a wedding gift for a friends wedding that we would unfortunately not make it to. That's when I decided to make this blog series. I, like I am sure many of you, are doing gifts on a budget this year but still want to give my friends and family pretty, or fun or useful gifts, not something they're going to toss because it clearly said,
hey I spent $10 on you this year.
So every Wednesday tune in to find some unique, affordable and
exceptional gifts
for your family and friends. If you ever miss it, just click the button and it will bring up all the posts.
One of the first shops I found for this series was
Marigold Trading
, Shelly was so open to the idea and she really helped me chase my dream in putting this altogether. I first came upon
Marigold Trading
when I was looking for a wedding gift. Custom pillows are hot items right now in wedding world but who knew they could cost so much?! That's where Shelly's boutique comes in!
Marigold Trading
had plenty of custom pillow designs but at a much more affordable price!
Kevin and I decided to send this pillow set to our friends getting married.
Which is currently sold out, but don't worry they are plenty of more options!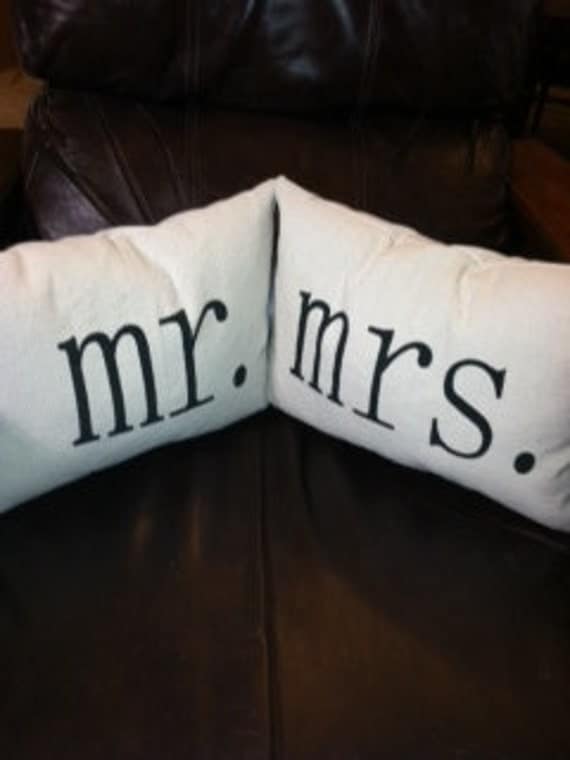 Since we sent those pillows directly to our friends, Shelly sent us
this
pillow. We've had it sitting on our sofa now for a few weeks and it's awesome! Now we have it up on our bed and just adore it there. It pretty much makes me smile every time I see it, I totally get the personalized pillow love now.
Shelly's pillows are soft too! Burlap seems to be a really popular material right now, but burlap isn't very soft so I wasn't feeling that type of material for a pillow. Shelly makes her pillows out of a cotton canvas which I was worried wouldn't be too comfortable but I was so wrong. It is soft to the touch and smooth, and also durable.


The print is bold and unscathed. It doesn't appear to be going anywhere soon which is important to me. I didn't want something that would scratch off easily. We have a black lab after all and she seems to have a love for pillows, she thinks they're all hers and she lays on any she can get her head on.
I think it's pretty much the perfect little staple pillow and it will definitely be taking it's turn between our bed and the sofa.


Check out some of the other pretty
pillow designs
she has. They run from $28 to $48,
the high price being the ones that come in sets of 2
, which is a great price compared to the others I found out there.
Shelly also has some handmade, beautiful
ornaments
, and other holiday decor. I'm already planning on getting a set or two for some family and friend Christmas gifts.
Oklahoma ornaments?! Oh you know I'm sold! But don't worry for the rest of you people she's got your schools too. I've also always been a fan of the ornament sets that allow you to put everyone's names on them, so fun and definitely personal. There are so many, 50+ ornaments that it was hard to choose my favorites. They're all made of wood and hung with wire, meaning they won't be breaking or fall off the tree easily, and they're hand painted. Best part? They run from $5.50 to $8! I don't know about you but that definitely fits my budget!
,


So what do you think? Will you be checking our
Marigold Trading
for this Christmas season?

Be sure to swing by this lovely lady's blog: