For our final Newlywed Game, I was going to do a vlog like Karla but I didn't get with it enough and next you know it, it's Thursday night and I changed into my pajamas right after I got home so that's not going on any public video...and anyway, I began this blog with written words so it shall end as such!
But before we get onward, I just want to thank each and every one of you for joining Karla and I on this adventure. It's been so much fun to answer these in my own home and I've adored reading the answers from your homes. Continue to grow in your marriages with questions, you never know what new thing you'll learn about each other.
AND BIG THANK YOU to Karla for being the best host EVER and dealing with me through it all...we all know my slack days were a little too often.
Okay, okay here we go...the LAST newlywed game EVER!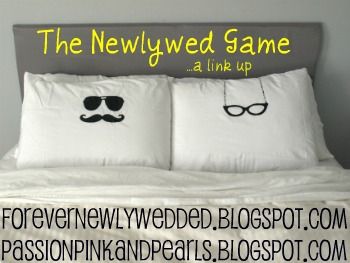 1. Follow both the HOST & the CO-HOST
2. Post the button above to your post.
3. Post the questions & your answers.
4. Add your link to the bottom of the post where it asks for your link.
5. Have fun checking out everyone else's answers!
You can link up anytime from now til Sunday at midnight EST!
The Newlywed Game #20
ONE:
What would your spouse be happy doing for hours on end?
Hhhmmm watching sports...and I think that's about it...
Uummm she really enjoys blogging, scrapbooking slash crafting of any time and taking baths
(that's a pretty great summary of me, he forgot laying out in the sun though)
TWO:
If you had the money, what would you buy for your spouse today?
Oh let's see, we both have been wanting to get a new camera...but just for him? Probably tickets to some big sports event like the superbowl or the likes.
The anniversary band she wants
.
(aww sweet man, one day ahem in 2 years ideally, I'd like to add a matching wedding band to the other side of my engagement ring.)
THREE:
What show is your spouse currently loving on tv?
He's devastated that The Office has ended, like literally he's watching re-runs right now as I ask him questions, and all his favorite shows air in the fall and spring sooo I think I'd have to say same as what he said for me.
The Bachelorette obviously...but she is also about to love HGTV STAR.
(summer is the best)
FOUR:
What is your spouse's favorite (all time or currently) youtube video? Share it with us!
Those Charlie the Unicorn ones...I can't stand them. He didn't get it so I'll share it with you, it's THIS VIDEO where the dog is ashamed of what he's done...I just die in laughter!
annnd silence... I guess her favorite would be our propsal video...I'm sure there's another one but I can't think of any that she has shown me lately.
(My hubby has made us an engagment video, a proposal video, a wedding video and now an anniversary video! CLICK HERE for them all!)
FIVE:
Do you and your spouse plan on doing gifts for anniversaries based on traditions? Like the paper for one year etc.
I think we'll probably end up doing at least little versions of each year but maybe not the extravagant gifts intended.
(except any that would mean jewelry for me, right husby?)
SIX:
How many kids does your spouse want? And if you could only have boys or girls which would your spouse prefer?
Two, and he would say neither...a boy and a girl though honestly I think he'd do well with all girls...course his deep knowledge of sports would lend well to boys probably...so basically I don't know.
Veronica definitely wants girls and I think if she would have her wish we would have three but I think we've compromised on two...seems like she's mentioned she liked having three.
(sooo I'm not following on this answer, I mean I am one of three girls but I would most prefer 2 kids I think...and if I had to choose yes girls but I want a boy too!)
SEVEN:
Would your spouse want to live in the city, country or beach?
Probably would be a toss up between city and beach.
This one is no contest, she'd want to live on the beach.
(yes and yes)
EIGHT:
What is a book you and your spouse have read together that you would recommend to other couples?
Kevin's mention was good, and when we got engaged we did a year study through the Bible with a Couples Devotional Bible.
We read through Wild at Heart and Captivating at the same time and it helped us understand each other better.
(as in we both together read each book one at a time)
NINE:
What is your favorite engagement picture? Wedding picture?
Since I know Kevin chose a wedding picture, I'll choose an anniversary picture: --->
Veronica makes fun of how much I love our sunset pictures from our wedding.
(he seriously ALWAYS chooses these, it's cute...check them all out here)
TEN:
What is one piece of advice you would give to those dating, engaged and or newly married?
Dating: spend time getting to know each other, ask the hard questions and be yourself
Engaged: don't worry too much about all the weddingness...and DO pre-marital counseling. Read my whole post on this answer HERE.
Newly Married: love it! Don't make it harder than it has to be. Solve your issues by talking them out and choose to love more always!
Be patient and enjoy every moment because you'll look back and they'll have flown by.
(truth)
aaaand that's a wrap folks!
Thanks for joining us!

I've missed Friday Letters and there's been so much going on lately that I felt the need to write up a few:
AND since I have SO much going on right now, a little edition of Friday's Letters:
Dear Husband, how did our anniversary come and go so fast?! I'll miss Sunday-Tuesday while I'm gone. Dear NEOCON, I'm coming to you! To say I'm excited is an understatement...I'm thrilled! Elated! Flabbergasted that I'm even going! Ahhhhh! Any ID friends relate with me on this? Dear feet, prepare to hurt, compliments of NEOCON. Dear Anniversary pictures, CANNOT wait to see you! Anna showed us snippets of you throughout the shoot and I'm stoked! Dear anniversary weekend, you were fun! I miss you. Dear Paisley, just stop growing! k? You're big enough now, right?Dear littlest sister, remember when you were just turning 13? or this year when you turned 14? This week you graduated middle school and I can hardly believe it...you make me feel old haha. I love you and I'm so incredibly proud of you! Enjoy high school littlest sister!! Dear Blate, that is blogger date...today I FINALLY get to experience you and meet the sweet Holly from Oklahoma Pepplers! I'm so excited I can hardly stand it! Dear blog, you're so behind on my life. You've barely seen the early May vacation we took, you haven't seen even a glimpse of our Memorial Day weekend, we just took our anniversary weekend and you don't have that to show either...geesh! Stick with me friends, it'll come! Dear Newlywed Game, farewell one of my favorite link-ups/my first real link-up to host. I will miss you but I will enjoy having Fridays back for just whatever. You will forever be a part of my blogging memories.

Be sure to swing by this lovely lady's blog: