It's Friday!
Hallelujah!
This week we decided to keep up the classy trend and do another vlog!
Watch
Link-Up
Comment if you want to help co-host
Read/Watch Others
Ready, GO!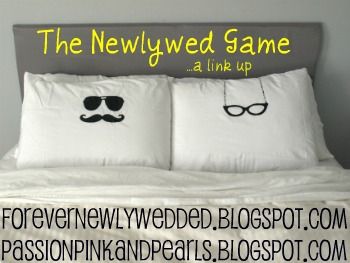 1. Follow both the
HOST
& the
CO-HOST
2. Post the button above to your post.
3. Post the questions & your answers.
4. Add your link to the bottom of the post where it asks for your link.
5. Have fun checking out everyone else's answers!
You can link up anytime from now til Sunday at midnight EST!
Thank you Allison, from Fridge Grown Garlic for our questions this week!!
Want to be ready for next week?
Follow our good friend, Bekah from re-solve.
These are the 10 questions she thought of!
1.Did anything go wrong at the wedding that you didn't find out about until AFTER everything was said and done? Please share.
2. Did the wedding make or break any relationships for you in the process (did you find that you respected certain person/people more or less?)
3. Having been married now, what new thing have you found out about your spouse that surprised you?
4. What does your spouse do that you find most encouraging? Where else would that encouragement help you?
5. Make a goal to do a nice thing each day for your spouse this week without expecting anything in return. What did you do, and What did you notice them do this week that you appreciated?
6. What was/is your spouse's favorite childhood movie?
7. What would be your spouse's "must-do" date now that nice weather and summer break are coming up?
8. Do you and your spouse have summer vacation plans? To where?
9. If you and your spouse could take one "skill" class (cooking, painting, motorcycle, etc), what would you choose?
10. If you could go back to your wedding planning days, what would you tell yourself? Would you have done anything differently?"

Be sure to swing by this lovely lady's blog: