Dear friends, as many of you know I live in Oklahoma. Several of you have probably seen the destruction on the news of a terrible tornado that struck around my area yesterday (and Sunday). This occurred 5-6 miles north of me. Myself, my home and my family are okay. I have heard all of my close friends/co-workers are safe and protected as well. Please be in prayer though as several have completely lost their homes and family members. This tornado devestated the area it went through. I'm sure there will be several ways to help as days go by. however if you're in the area or you want to mail some things...my church, Journey Church, opened their doors last night as a shelter. This link takes you to a list of supplies they are needing. Also, if you would like to buy this t-shirt, 100% of it goes to helping those in need! Thank you for all your thoughts and prayers. I am so encouraged by those of you who texted or called or emailed to see if I was okay. I appreciate all of you! (ps: our cell towers are limited, not sure how long that will last but don't be alarmed if you don't hear back from me by text/call).
New addition, when you buy this necklace...ALL the money goes to the Red Cross!
Hello lovelies!


This Tuesday I've got another fabulous concept board for you!
PLUS I have the honor of co-hosting the link-up with Beth!
Link up with us!
Super Simple Requests for participation:
1. Follow Your Host and Co-Host via GFC or Bloglovin'
Co-Host: Veronica - Passion, Pink & Pearls
2. Grab A Button!
Grab a button below and include it in your blog post or where you share your link parties on your blog.
3. Share it!
Spread the word about this link party by tagging me (
@beth_dydblog
) in a tweet with a direct link to
your
mood board post and using the hashtag #moodboardlinkparty! Feel free to share it on Facebook too!
4. Like it!
Like your favorite mood boards by clicking the 'like' option below your favorite!
Most importantly, connect with, be inspired by and follow other design bloggers!
Grab a button, link up, and have fun! :)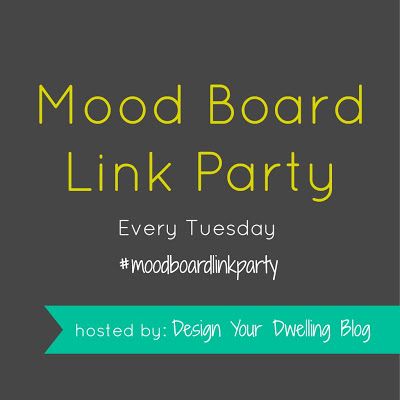 If you are interested in co-hosting the Mood Board Link Party send me an email! designyourdwellingblog(at)gmail.com
Master Bedrooms are incredibly important. It's where you want to wind down after a long work day, where you want to cuddle with your hubby, where you get ready for your date nights, where you want to be yourself, and where you want to be totally and completely comfortable.
I recently shared my own master bedroom, I did a concept board for Karla's master, and also for Jaime!
Today I have Meredith's, from Belle in Boot, master suite!
If you've never clicked over to her blog, you better get with it! This pretty lady is that classic southern belle and she's planning her wedding...we all love weddings!
Onward to the design!
Inspiration
What are your overall goals for this space?
I would like the furniture to be simple and have a long life. The accessories, bedding, colors can be changed around but we are looking to buy a few big investment pieces and play with colors as the years progress.
Currently this space is?
Neutral Tan with white trim and new carpet.
What is your vision or design style?
I would like the room to be an oasis and clutter free. I am leaning towards neutrals with pops of color, in the teal-aqua-green family.
Meredith is going all new in this bedroom make-over which is always so exciting for designers so as you can imagine I am already way ready to go with this design!
My vision is take make neutrals the backdrop and to bring in the current trendy with some bright accents with the colors she mentioned above.
Soothing, Captivating, Enchanting, Simple
Now Meredith asked for some advice on where to purchase some quality, time-standing furniture pieces. I personally love Pottery Barn, Ethan Allen, Restoration Hardware, West Elm, World Market, Crate and Barrel...there's all kinds of other great options out there. There's also the great option of bargain hunting at estate sales, or even Craig's List. So Meredith, I'm choosing Pottery Barn and Ethan Allen for a few staple pieces but keep in mind that you can look all over the place!
As far as painting goes, I would love to see a feature wall in this master suite, and what better way to bring more pattern in than with a beautifully done stripe? I loved one picture I found on
Meredith's pinterest board
--->
BUT, I want to take it in a different way. We're going to take the paint color you see above, marked as accent and create stripes in using the same color (or very close to the same color) with one being a pearlized finish and the other a satin/flat... the result is dimensional yet simple and beautiful.
Accessories wise, Meredith mentioned that some of these items could be things that changed but some are items I wanted to be an investment for her. For example, lamps, I chose the lamps from Luly and Georgia. They're pricy but the shape and pattern are classic...as styles will change those lamps will easily transition with them.
Other accessories like the LOVE sign, and trinkets and pillows can easily be changed throughout the years without too much cost.
Meredith didn't want white bedding, due to practicalities that I totally understand, but the base of this coverlet is a tan. I provided an alternate if she still thought it was too light.
Another note is the room had some dark brown wood storage in it already, in order to pull that into the space and give it a touch of masculinity I brought in some anchor pieces like the tallboy dresser and the HIS nightstand.
The plan as a whole of course can be dressed up more or dressed down, accessorized with DIY projects instead of buying from the store...etc options are nearly endless.
Can't wait to see what you do Meredith!!
Budget: $4500
My Design: $4350

Be sure to swing by this lovely lady's blog: