Hey friends! Kevin and I are up in the northern tundra still,
otherwise known as Wisconson,
but we still have the Newlywed Game up and running for you! This
#16!
I can't believe we've done 16 straight weeks of this! There will
only be 4 more
and we're still looking for a couple more friendly faces to help co-host so send either Karla or myself an email.
Today, we're back to written words for the game but I'm curious...which do you prefer? Vlog or written words!? Let me know in the comments!
Alrighty, onward!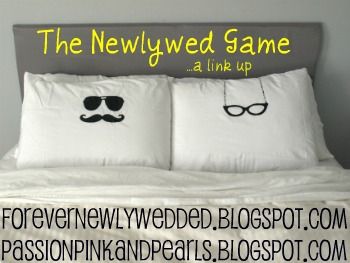 If you'd like to link up, simply...
1. Follow both the
HOST
& the other
HOST
! and this week follow the special CO-HOST!
2. Post the button above to your post.
3. Post the questions & your answers.
4. Add your link to the bottom of the post where it asks for your link.
5. Have fun checking out everyone else's answers!
You can link up anytime from now til Sunday at midnight EST!
I'm excited to see your answers!
ONE:
Did anything go wrong at the wedding that you didn't find out about until AFTER everything was said and done? Please share.
From my understanding the clean-up process post-wedding didn't go as smoothly as I had hoped, planned and organized for...I wish I could have changed that for everyone.
Not that I can think of because the cake topper broke right in front of us.
(oh funny story)
TWO:
Did the wedding make or break any relationships for you in the process (did you find that you respected certain people more/less) ?
I got a lot of, hhmm well this is a tough question...I guess I got a lot of resistance at first from some friends but they came to understand better and were encouraging. I had some family resistance too mostly because of my mom battling cancer in the middle of it all...I think everyone eventually came around but it hurt at the time. I don't really know that I respected people more or less for it...they just didn't understand. On a happier note, Kevin new our college pastor pretty well but I didn't and I came to respect and appreciate him so much more through our pre-marital counseling (not that I didn't respect him before, I so did, it just grew).
I can't think of anything...all my friends were excited for me, family too.
(truth)
THREE:
Having been married now for a bit, what new thing have you found out about your spouse that surprised you?
These are hard questions Bekah!!! Ahhh I don't really know, I'm surprised how much more he appreciates my push on changing his fashion...It really wasn't hard to transition into living together, we'd been friends so long, we put Christ first and like Kevin says below we had some great pre-marital counseling.
Hhhmmm living with her 24/7 has been more fun than I ever imagined but there haven't been any major surprised, I think pre-marital counseling took care of most of those.
(sweet man)
FOUR:
What does your spouse do that you find most encouraging? Where else would that encouragement help you?
He is really good at telling me how beautiful I am, when I'm showered and clean, when I'm sweaty, when I'm all dressed up, and even when mascara is sliding down my face...he always tells me.
Well she encourages me a lot with her words of affirmation but I don't really understand the second question...
(love my hubby)
FIVE:
Make a goal to do one nice thing for your spouse everyday this week without the expectation of getting anything else in return. What did you do, what did they do?
Well this week is just beginning for us so we shall see! (we're writing this on Monday)
I, I don't know what to say
.
(

I figured not, silly man)
SIX:
What is or was your spouse's favorite childhood movie?
Something with a penguin in it...Pebble and the Penguin or Pebble the Penguin or something like that...apparently I am wrong, Kevin tells me he liked the Jungle Book as a kid...he tells me his love of penguins didn't come until his teenage years...yes you read that correctly.
Veronica really liked Disney Princesses..but I seem to remember being Swiss Family Robinson.
(yes to both, my mom told me as a little girl I liked Beauty and the Beast best but as I got older I don't think I'd say that one...but yes to Swiss Family Robinson)
SEVEN:
What would be one of your spouse's must-do dates now that warmer weather is coming up?
Kevin wants to just play outside and go to the river with Paisley...wait that's not exactly a date night...I don't really know, probably the same as what I would say so whatever he wrote.
We are definitely hitting up the drive-in movie theater soon, Veronica also wants to go star gazing soon.
(YES YES)
EIGHT:
Do you and your spouse have summer vacation plans? To where?
Well, we're gone right now! In WI...other than our little anniversary weekend to Oklahoma City (which is only 30min north) we don't have anything set. Sadness.
We're having a relaxing anniversary weekend in OKC but other than that we will be enjoying our staycation in Norman.
(my heart longs for the beach)
NINE:
If you and your spouse could take one "skill" class, what would you do?
That lady is going to be a BRIDE!
Dancing! Because our best friends who are getting married, they're awesome dancers and we need to get with the program before their wedding in December!!
Bridesmaid dress day ----->
I think we would want to do a clay pottery class...
(I'm dying laughing right now...I have no idea where this came from...oh goodness...men are entertaining...no husbands are entertaining)
TEN:
If you could go back to your wedding planning days, what would you tell yourself? What would you do differently?
Ah this question! I would say don't freak out about spending on the decor so much, don't stress...and take a deep breath, I mean I could have made decorations with paper and need/thread...for FREE (like my Easter decorations) but I didn't chill out enough to see past the more expensive options.
Don't worry too much, everything will come together in the end.
(I think he's speaking more to me on this than himself)
A few Sundays ago...we walked to lunch with the other volunteers/staff for our church college ministry we serve in
Next Week's: Go see Karla's Blog or Bekah's blog... I had to post early and didn't have next week's questions yet but Hallie from Life: Oceanside will be our co-host so get excited!!!

Be sure to swing by this lovely lady's blog: