Happy Friday Morning!!!
Kevin and I are off enjoying our first year of marriage! YIPPEE!!!
But before we left, we made time for the second to LAST newlywed Game!
That's right, next week will be the very LAST time to link-up and get your hubby to answer questions!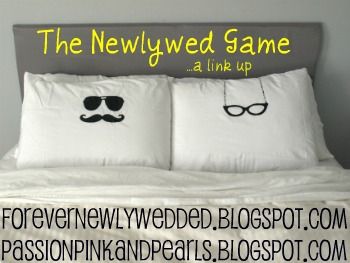 1. Follow both the HOST & the CO-HOST
2. Post the button above to your post.
3. Post the questions & your answers.
4. Add your link to the bottom of the post where it asks for your link.
5. Have fun checking out everyone else's answers!
You can link up anytime from now til Sunday at midnight EST!
ONE:
Would your spouse rather be blind or deaf?
Hhhmmm I think blind because he loves listening to music? BUT then he wouldn't be able to see me anymore so that'd be sad for him ;)
My spouse would rather be deaf because she is a visual person which is why she became an interior designer.
(TRUTH! #IDlifeproblems... this comment still works for this answer, YAY)
TWO:
Who wears the pants?? ;-)
Oh let's see, I was thinking he does in certain areas and I do in others. Like he wears the pants in our finances ( I don't get him to budget much there) but I wear the pants when it comes to things of the home and design...and clothes lol
Uhhhmmm I guess Veronica wears the pants because I'll do pretty much anything she says if she says it sweetly
.
(haha partly true....)
THREE:
What do you think was your spouse's best subject in school?
Art, obviously.
(I knew he was going to choose that)
FOUR:
Is there any significance to your spouse's name? Were they named after anyone?
I don't think so...at least none that I've heard.
She was named after the comics, Archie and Veronica.
(I was names after the character Veronica from the Archie comics...he didn't quite the title of the comics right.)
FIVE:
What quality does your spouse have that you hope your future children will inherit?
I hope they have the cute, sweet, silly nature Kevin has! And will learn to love by the way he shows love to me, which he learns from the Lord.
My wife has many qualities I would want our children to have but one of the uncommon ones is organization
. I think they will inherit her kindness, hospitality and overall gentle nature just by being around her.
(

awwww)
SIX:
What musical artist do you listen to that your spouse hates?
ANY of my country favs...minus T swift...he loves her.
I've been enjoying some top 40 music from the UK which is more electronic styles. Veronica doesn't really appreciate it as I do.
(this is true)
SEVEN:
What do you both want to do when you retire?
Vacation! And live on a beach.
(yes and yes)
EIGHT:
What is your favorite tradition that you share together? Or maybe one that you both started together when you got married?
I love all the pictures we take and how we celebrate each month of marriage. We did both of these before we got married too.
I enjoy our morning cuddle time, we set our alarm 10 minutes early and enjoy 10 minutes together cuddling before we get up and take on the day.
(sweet man)
NINE:
What is your spouse's favorite app on their smart phone (if they have one)?
Probably one his sports ones? Or maybe his article reading app but I think that's on his tablet...umm I really don't know. He likes apps A LOT! He says he would go with TWEET caster on his tablet or feedly on both devices for reading my RSS feeds.
Veronica instagrams pictures all day everyday.
(I do not all day everyday! but I do a lot, that much is true)
TEN:
Have you & your spouse dressed up for Halloween together? If so, what was your favorite costume?
AH costumes! You see being in Phi Lamb meant we got to dress up way more than just Halloween! So here are our favorites in a college!
Were not big Halloween people but my favorite would be when I was Prince Phillip and she was Sleeping Beauty.
(this is the BEST)
The FINAL set of Questions for the LAST week of the newlywed game:
1. What would your spouse be happy doing for hours on end?
2. If you had the money, what would you buy for your spouse today?
3. What show is your spouse currently loving on tv?
4. What is your spouse's favorite (all time or currently) youtube video? Share it with us!
5. D
o you and your spouse plan on doing gifts for anniversaries based on traditions? Like the paper for one year etc.
6.
How many kids does your spouse want? And if you could only have boys or girls which would your spouse prefer?
7. Would your spouse want to live in the city, country or beach?
8. What is a book you and your spouse have read together that you would recommend to other couples?
9. What is your favorite engagement picture? Wedding picture?
10. What is one piece of advice you would give to those dating, engaged and or newly married?

Be sure to swing by this lovely lady's blog: