Hooray it's Friday!!!
You know what time it is...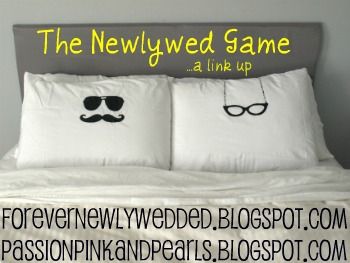 1. Follow both the HOST & the CO-HOST
*** PLEASE follow our guest co-host for this week...
LEAH! ***
2. Post the button above to your post.
3. Post the questions & your answers.
4. Add your link to the bottom of the post where it asks for your link.
5. Have fun checking out everyone else's answers!
You can link up anytime from now til Sunday at midnight EST!
This week yall are in for a real special treat from Kev and I because we are doing our first EVER vlog for you guys...here comes embarrassment...and awkwardness...oh geez, why did we do this?
I'm going to blame Karla...and her badgreat influence on me...here's to being a big girl about blogging...vloggin?!
Want to be ready for next week??
Well, you can start by following, Allison from Fridge Grown Garlic!
She is our guest co-host for next week & here are the questions she came up with:
1. If you could go on any trip for your anniversary, where would it be?
2. Is there a chore that you don't do, but your spouse does, and vice versa?
3. Is there a piece of clothing of yours that your spouse would get rid of?
4. What does your dream house look like?
5. Is there a movie that you and your spouse watch because you love it so much?
6. What are 5 songs that would be on your road trip soundtrack?
7. What was your favorite date, either while you were dating or when you were married?
8. What is your spouse's favorite meal?
9. When your spouse is sick, what do you do to make them feel better?
10. What was your favorite gift that you put on your wedding registry?
Let's end that embarrassment with a pretty picture:

Be sure to swing by this lovely lady's blog: