Good Thursday Morning Lovelies!
Today I'm linking up for another SPD for those easy granola bars we've all seen floating around pinterest.

When husband started a couple weeks of overnight shifts I wanted him to have a tasty but healthy snack to eat overnight that wouldn't throw off his system and make his tummy unhappy. When I stumbled across a few of these pins I knew this could be the perfect solution.
Here are a few of the ones I had pinned:
From
Growing up Gabel
From
Let's Get Bananas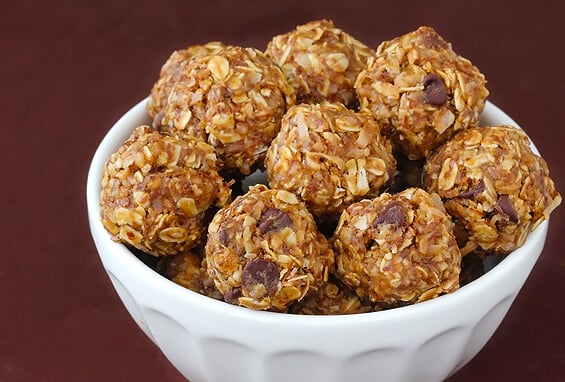 From Gimme Some Oven
Lemon Poppy Blog
I'm sure there are many more, some of you might have even written up your own post! I'll be happy to add it in if you'll send me the link!
So here's my take, basically these all use essentially the same ingredients The idea is healthy, energy, easy and yummy...and boy are they ever! I doubt I'll ever by a pack of granola bars ever again.
So today, I'm sharing with you my take on these granola bars. I don't take a single bit of credit on these as they obviously came out of the amazing ladies I listed above but I thought I'd share my slight changes.
If any of you have something you'd like me to know, leave a comment so I can add it in!
Easy Granola Bars/Bites/Balls (whatever you want to call them)
Main Ingredients:
1/2 cup peanut butter

( I use IAMS reduced fat...but you know there's all kind of PB out there)

1/3 cup honey
1 tsp. vanilla
1/2 cup unsweetened coconut

(my hubby picked up sweetened, it tastes great but I'm sure the unsweetened is a tad healthier. I've also seen toasted coconut as an option here.)

1 1/3 cup old fashioned oats

( you can also use quick oats...I did a little research and as far as no-bake goes, either one will work. The blended just are a bit smaller and broken up. It comes down to preference really)

1/2 cup flax seeds
1/3 cup mini chocolate chips OR dark chocolate chips crushed OR semi-sweet at their regular size
***If you don't like peanut butter-> 2 mushed banana
(I didn't see this anywhere, though I thought I did-when I looked I couldn't find it, anyway I tried it because husband doesn't love PB so I thought it would be a good trade out and sure enough it was)
and 1/4 cup(or less) of peanut butter. If you can't eat peanut butter...try 2 mushed bananas and more honey.***
Add ins:
1/2 cup pecans
1/4 cup raisin OR craisins
1/4 strawberry granola

(found this at our Sprouts in their bulk section and thought it was be fun to throw in. We love it!)

1/4 cup crushed or slivered almonds
1/4 cup any other nut: peanuts, cashews, etc etc
1 tbsp. chia seeds

(haven't tried this yet but I want to)

*The possibilities here are virtually endless! What do you put in yours?
Steps:
Grab a big bowl and a long spatula
Dump all the ingredients into the bowl.
Press into a bar pan and put in the fridge to harden. Cut later OR roll into bite size pieces and put in the fridge to harden. Let chill 30mins to an hour.(if working with more banana than peanut butter you might toss them in the oven for a few minutes and then the fridge, once cooled)
Keep them in a container in the fridge.
Enjoy between breakfast and lunch or lunch and dinner!
Pearls:
- Buy in bulk! If you plan to make these more than once this will help your pocket book
- Want to mix it up and add different ingredients? Head on over to Sprouts
- Basically the consistency you want for the final mixture is sticky but smooth...if that makes any sense....so if you add a lot of extras you might need to throw in a bit more honey/peanut butter/banana in order for everything to stick together and thus be able to form balls or bars.
Before I let you go, don't forget about the Newlywed Game tomorrow and be sure
to check out this special announcement:
***Fill out the form below to find out if you could be a cost host for the Newlywed Game!***
PS: Want tow WIN a new blog design?!
Go check out my new friend's giveaway... 3 will win!

Be sure to swing by this lovely lady's blog: