There's been an awful lot of hallaballo
(yeah making that up)
about the whole Google Reader deal...I've been using bloglovin anyway and will continue to follow via GFC too but anywho, my point was if you want to make the switch than catch me over at bloglovin:
Now, onto other Fridayness...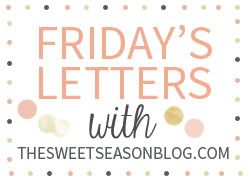 Dear Friday,
wow you came fast this week...although I'm sure glad you did cause I'm done with husband working overnights.
Dear Husband,
tonight is your last overnight shift! HOORAY!!! I don't like going to bed alone every night and I miss you being there in the bed too, it's so big and lonely without you. Also, it's not easy to be quiet in the mornings, so I'm ready to get back to not having tip toe.
Dear Paisley,
yesterday when we were supposed to be quiet while your dad slept, you barked, played with your noisiest toys and randomly jumped on the bed and straddled your dad...
not cool Pais, not cool.
ps: stop growing!
Dear Bachelor,
now what am I supposed to look forward to about Mondays?
Dear bloggy friends,
Thanks for letting me
get real with you yesterday
about ID
ness
and for being so sweet in your comments about the
date night grown up tent
.
Dear Oklahoma Weather,
well praise JESUS! You finally started to listen to me and get warm up in here and I sure am glad you did! This girl missed her dresses and flip-flops!
Dear God,
Thanks for constantly teaching me and leading me in this wife life, without you by my side these past weeks with husband gone a lot would have been hard. It is because of your strength in me that I can carry through. I'm excited to see what you teach me as I read
The Power of a Praying Wife
.
Dear Downton Abby,
You've sucked me in and I like you but I'm a hopeless romantic so this girl would love a little happy/romanticness in you, okay? ps: friends who watch, don't spoil anything as I'm only into mid season 2! pss: Downton Abby may have gotten to my head a bit since Lady Paisley is gracing us with her presence today on the Newlywed Game!!!
Dear bloggers,
If any of you are missing Spring Break like myself, stay tuned!
THE NEWLYWED GAME
!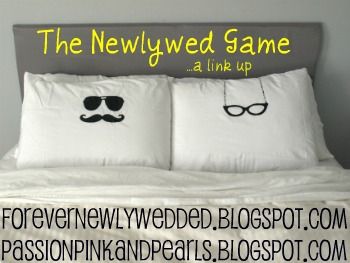 If you'd like to link up, simply...
1. Follow both the HOST & the CO-HOST!
2. Post the button above to your post. ( I'm having problems getting the box to show up today, but you can save the image or go to Karla's blog for the button box)
3. Post the questions & your answers (hubby's included!).
4. Add your link to the bottom of the post .
5. Check out other's posts and comment...make some friends!!!
6. Save next week's questions, find them at the end of this post.
You can link up anytime from now til Sunday at midnight EST!
I'm excited to see your answers!
The Newlywed Game #7


with Lady Paisley! (her answers are in

light pink

and she doesn't seem to understand the memo about answering for her parents so you'll see her answers are all about herself

)
ONE:
What is your spouse's favorite room in the house?
Oh I'll have to say the living room with his big tv he won.
Probably her nook because it's her organization central!
(I promised pictures of this way back when but never came through on that..thinking about doing a house tour soon so maybe you'll see it then.)
I'll have to select the living room with the chaise lounge by the window.
(it's not a chaise lounge, it's a sofa...silly puppy)
TWO:
What was the first picture of you both? Where were you/when was it?
At our Walker Stalker lunch! Read about it HERE!
Our first picture was taken at Bible study small group lunch, in the front yard of the house, a few weeks after we met..
(So much more detail than mine.)
I had several photographs taken of me when I was just a babe, however I do believe the first photographs with my lovely, adoring family would be on the first day they met me.
she was so little!
THREE:
Describe a typical evening at home.
I usually get home before Kevin so I'll start dinner and we eat generally around 6 or so. We watch tv or go for a walk, always play with Paisley. We're starting a new plan though where we read on Tuesdays and leave the TV off.
Watching our favorite television shows together and enjoying time with our puppy, Lady Paisley.
(totally left out dinner...strange for a man, no?)
I'm delighted when parents finally come home and relieve me of my naptime in my quaint little home. Next, I receive my dinner and then I'll cuddle up with my parents.
FOUR:
What is the most embarrassing thing that has ever happened to you & your spouse in public?
Hhhmm, I'm easily embarrassed so this should be easy but I am really having a hard time coming up with one...and it's not because I'm too embarrassed to say.
Hhhmmm I don't really know...for embarrassing and in public...course there was that one time we were star gazing at Lake Thunderbird and got caught my a police officer and ordered to go home, it looked like we were doing something naughty but we were really just watching stars, well there was a few kisses.
(agreed)
I am often made fun of by the other dogs since I am very fearful of other dogs and my parents will snatch me up and whisk me away.
(it's true)
FIVE:
What do you like best about your spouse's personality?
Kevin has a kind and servant heart. He's always taken care of me even when we were just friends and it didn't matter what it would cause him to sacrifice. He could be there to serve me or anyone at a moment's notice.
A lot of things to go through. Her sweetness, she is kind to everyone and pretty much at all times and she's very sweet to me
(he's the sweet one!)
I have many wonderful qualities about my personality but I would most definitely have to say my grace and charm, my middle name is Grace after all.
(she tends to be self righteous)
SIX:
When it comes to ________ my spouse would win first prize.
Being cuddly and romantic...I won myself a hopeless romantic!
I want to be cheesy and say all around loveliness, and I'm thinking interior design is kind of corny but that's what I'm thinking about so I'm going to have to go with that one...with honorable mention to beauty, personality, sexiness, skills, smarts, blogging, etc.
(awww)
I'm most assuredly the prettiest of labrador retrievers around.
(she is very pretty)
SEVEN:
What is your spouse's best physical feature?
HIS SMILE
Does it say to keep it PG? haha just kidding, I'm going to say her strong arms give great hugs, I thought about your face cause it's a really great physical feature but your strong arms are pretty awesome and I love hugging you.
(I don't really know what to think about this? My arms? my floppy arms...he's never mentioned this before)
My parents are always raving about my lovely ears, their shape, their softeness, their cuteness, etc however I'd have to say my swift and lean legs.
(we do love her ears, LOVE LABRADORS EARS)
EIGHT:
What is your spouse's most indispensable possession and why?
ME! But if it's a material item his phone, cause he uses it for everything, he even uses the Bible app more on the phone than his physical Bible.
Her Bible and journal because she loves to journal about what she's learning
(Yes, good answer.)
If I ever had to live without my tennis balls, my life would be quite a sad site.
(so dramatic)
NINE:
Do you think your spouse will be a good Mom/Dad (why or why not) or if you already have children, what makes your spouse a great Mom/Dad?
Yes because I think he will adore them as he does me...however disciplining my not be his strong suit, especially if they develop a super cute look when they're in trouble, like the dog.
Yes because she'a already developed motherly tendencies from nannying and babysitting
(true, true).
I'm going to be a wonderful doting mother.
(except not, because an appointment is awaiting her in April)
TEN:
What is something that your spouse is optimistic AND pessimistic about?
He is most often optimistic about everything, and will always encourage me with a verse from the Bible about God's promises for our life, but if I had to choose something on pessimism every now and then he'll get overwhelmed by our college loans we're paying off.
Our financial goals and whether or not I'll ever let her buy the house she's always wanted to fix up and make perfect with her interior design skills and she's optimistic about most everything, she's a cheerful person, I don't know...
(all interior designers have this dream, I think).
I'm certainly pessimistic about whether or not I shall receive my breakfast and supper at appropriate hours in the day however I am optimistic about my parents love for me, it is always abounding.
(her and food)
Everyone, Lady Paisley:
If you missed this on instagram, well then you missed out.
Next weeks:
Which does your spouse prefer? Summer or Winter Olympics?
What advice would you give your 16 year old self, now with the knowledge that you have found and married "the one?"
What expectations did you have going into marriage? How have they changed?
When engaged, what did your spouse most look forward to about being married?
What is your spouse's favorite meal that your prepare?
What is your spouse's favorite form of exercise?
What sport would your spouse most prefer to actually participate in?
What is the strangest food your spouse has ever eated?
Is your spouse a country gal/boy or a city slicker?
Who is the "handyman" in your home? You or your spouse?