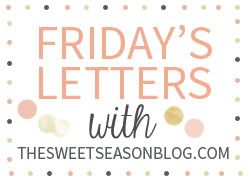 Dear bloggy friends,
THANK YOU so much for all your support on the new link-up Karla and I started...I've LOVED getting to know yall more...hope you choose to stick around a while.
Dear Jillian Michaels,
your 30 day shed is working me and Kristina out! Many thanks for being on youtube so she and I can work out together via youtube and skype...technology is a great thing!
Dear Husband,
HAPPY 9 WHOLE MONTHS OF MARRIAGE TO US!!!!!! Let's celebrate tonight with a good romantic comedy, say yes?
Dear Sister,
you're 14 today! Say what?! Where went time?
Last year
you were just entering teen years. Enjoy middle school now, it'll be gone before you realize it.
Dear Mommy,
you're back into painting and it's awesome! Keep working at it. Your strength and creativity is sure to swing back now that your'e in remission! CELEBRATE!
Dear NEOCON,
I'm coming to you this year!!!! I am incredibly stoked about you...I'm beyond excited...I'm thrilled!
(dear non ID friends, it's basically a big ID convention for ff&e)
.
Dear Paisley
, we love you.
Dear blog friends,
do Ashley's Friday's Letters and then come back later between now and Sunday for the Newlywed Game!
you know you want to...
And now, it's time for
THE NEWLYWED GAME
!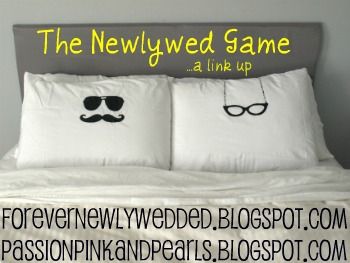 If you'd like to link up, simply...
1. Follow both the HOST & the CO-HOST!
2. Post the button above to your post.
3. Post the questions & your answers (hubby's included!).
4. Add your link to the bottom of the post .
5. Check out other's posts and comment...make some friends!!!
6. Save next week's questions, find them at the end of this post.
You can link up anytime from now til Sunday at midnight EST!
I'm excited to see your answers!
ONE:
What advice would you give a friend who found out that he/she is getting married?
To definitely invest in marriage counseling before...see this post.
Don't go to bed angry, it's worked well for us.
(and we talked about this in small group, he took the easy way out)
TWO:
Do you have a pet name for your spouse? If so, what is it?
Oh do we ever? We are ridiculous about this...it's embarrassing...really though, it is. Let's see, what do I feel bold enough to say on the world wide web? Well I like to make all kinds of forms of husband, like hubster or hubby, or the latest is husby...bet the silliest is hunky monkey, and there's no story behind that other than it randomly came to me one day while we were dating and I just started calling him that...that's one of the embarrassing ones.
Little Bear. It came about after we watched the Oscar winning movie Brave.
(We saw this movie when we went to the drive in last summer...he thought the little brothers when they turned into bears were so cute...and so it became my name...rolling my eyes usually takes place after he calls me this... another one is franca which was created by some kids I babysat for, it's what my name sounded like when they said it super fast, veronica that is...)
THREE:
What are 3 things that your spouse cannot live without?
Let's see, ME, my kisses, and ME...haha just kidding, well me and Jesus and some technology
Chocolate, ME, and peanut butter...it's funny because it's food, me and food...or her planner because she gets really upset if she doesn't have it.
(way to put God in my hubby!)
FOUR:
What is your favorite date idea? (something you have or haven't done)
I've always wanted to go to a drive in, so when we did that I was so excited...but I'm looking forward to a couples massage, I don't know if you can call that a date idea, it's something I want to do together...anniversary husband?!? hint hint
Hot air ballooning, we've never done that and it sounds fun.
(agreed)
FIVE:
Is there a book or movie that reminds you of your marriage with your spouse? If so, which one and why?
TV show...and that'd be Boy Meets World, Cory and Tapanga because they're super comfortable with each other and my husband has many Cory tendencies, see here.
Boy Meets World even though it's not a movie or book because we're definitely like Cory and Tapanga...that or Modern Family because Veronica has claire like tendencies and I have the goofiness of phil.
(fact: we got the entire BMW series on DVD for Cmas this year, fact2: BMW is coming out with a sequal, Girl Meets World and you better bet we're excited, fact3: Kevin's statement is very true)
SIX:
Rate the very last kiss you had with your spouse. How was it on a scale of 1-10?
Short and sweet, so a 6.
10, we never have bad kisses.
(awww what an awesome answer! love you husband)
SEVEN:
What was the very first thing you noticed about your spouse when you first met??
His odd fashion choices...no but seriously, read the first part of our story.
Her smile, she had a very friendly smile.
(awww sweet man AGAIN, lucky lady I am!)
EIGHT:
What was the very first gift your spouse ever gave you?
Oh my goodness, is it bad that I can't remember?.Shucks, it would have been my birthday...so I think it was a picture frame of pictures of me with scripture
A framed picture collage of three pictures and the words, You & Me for our first Christmas..I was going to say a hand written Bible verse on my dorm door but that was before we were dating and wasn't exactly a gift.
(do you know, this man actually has held onto that Bible verse that I wrote Freshman year of college! the girls and I all wrote verses for the guys door, he took his seriously. the photo collage I made was OU themed, we have it up in our bedroom now.)
NINE:
Is there anything you sacrificed when you married your spouse? If so, what?
Goodness, I really don't think so....well he has a strange schedule so maybe my ideal thoughts of us both working 8-5 on weekdays? I kind of new that possibility wasn't strong...weather doesn't stop people.
My dream of living up North in snowy lands
(this is true, I will not, fingers crossed-please no God, be as accommodating as my MIL).
TEN:
What would your spouse say is the funniest photo of you? Try & describe the picture, or post it below!
I look like a man...gross, why am I posting this?
hhhhmmm well we took a REALLY goofy one before we dated, when we were JUST friends. Who knows why we took a photo this way but we did...
From a date party, 80s themed
Probably just a goofy one from a date night, I'm having a hard time picking one specifically
(he refused to pick one so I did).
and because I always include a fun picture at the end of the post...this is from a wedding we attended a couple summers ago. The groom is a photographer and is from Arkansas, HIGHLY recommend him if you're in the area...and his wife does graphic design, one stop shop for any event or wedding! check them out.
***Don't forget to save these for next week***
What is your spouse's favorite animal?
What does your spouse do..what's their occupation? Explain as much as you possibly can.
What is your spouse's favorite pro sports team?
If your spouse could retire anywhere, where would they choose?
What is something on your spouse's bucket list?
What is your spouse's favorite candy or sweet?
What is something your spouse would love to have in their dream home? Like a specific room they want, etc.
If your spouse could only watch one movie over and over for a week, which one would it be?
Who chose the wedding colors? Your or your spouse? What were they?
If your spouse could teach a monkey one trick, what would they have it do?