Since life happens sometimes, I got sick and didn't post our newlywed game answers so here they are today!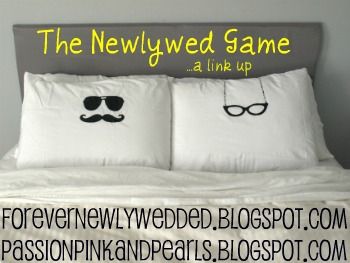 ONE:
Which does your spouse prefer? Summer or Winter Olympics?
I know my hubby loves ALL the winter Olympics hands down.
Winter.
(I think he said that cause it's his favorite, not sure I have a favorite, really...oh and he created this question)
TWO:
What advice would you give your 16 year old self, now with the knowledge that you have found and married "the one?
Enjoy all the time you have with your girlfriends, live into the life God has for you and never feel less than wonderful because God made you wonderful just as you are.
It's okay not to date until college because it's worth the wait.
(I was Kevin's first and only girlfriend, :) lucky me!)
THREE:
What expectations did you have going into marriage? How have they changed?
I expected to share household chores, I expected to see him more, I expected for life to be easier with no school and living together...so far those have held up, nothing has or hasn't changed exactly, moving into married life was so easy for us...I guess so far.
I expected to be with my best friend all the time and it hasn't really changed it's all been great!.
( :) )
FOUR:
When engaged, what did your spouse most look forward to about being married?
I think we both looked forward to just sleeping together in the same bed. While we dated, we never spent the night over at each other's homes...we wanted to keep steer clear from any possible mistakes and also wanted to be pure in the eyes of others, not for our benefit but for the glory of God. Thus we simply looked forward to neither of us having to drive home late at the end of the night. It's one of the best things about being married.
Having someone to share the bed with and take care of her.
(true, true....and by the way, he said my answer was right, Go me!)
FIVE:
What is your spouse's favorite meal that your prepare?
This is a hard one, I haven't had any real complaints. He loves the mini turkey burgers I make, and my nachos...but those are the simple ones...I know there's some real recipes out there that he has just loved but I can't think of them...he reminded me of my turkey chilli! I forgot about that one, it's a great one, though I may be biased...get the recipe HERE!
Ummmm she likes my french chicken casserole and the lunches I make for her.
(true life yall, my hubby makes my lunch for me everyday I go to work...even on the days he doesn't have to go to work...best unexpected part of married life!)
SIX:
What is your spouse's favorite form of exercise?
Haha I watched Karla's vlog on these yesterday and I'd might have to say the same answer she did for Scott and that is...not PG...other than that? He liked to play basketball and if he's getting serious about working out he does the Insanity videos.
Running with her puppy.
(That's true but even I am shocked to read that...who am I? Two years ago I would have laughed out loud and rolled on the floor and called Kevin a crazy for saying that...but alas here I am, I went from a hater to a lover...bring on the COLOR RUN!)
SEVEN:
What sport would your spouse most prefer to actually participate in?
Well definitely basketball... when he was little he would draw out the court, in chalk, on his driveway...and yall he got precise about it too...my little nerdy Bball lover of a husband.
Hhhhmmm tennis...that's my honest answer.
(SKIING HUSBAND SKIING! It's my FAVORITE sport to do! Come on!)
EIGHT:
What is the strangest food your spouse has ever eaten?
I think alligator?
She's eaten deer..it's kinda hard to eat strange things when you don't eat red meat like my wife.
(oh love...I didn't eat the deer, I helped prepare deer chili for a cook-off with friends but that stuff NEVER entered my mouth...and the weirdest thing I've eaten is alligator.)
See I don't lie:
We called ourselves, Red Hot Deer Hunters...Red for our school and deer because the chili was made deer meat. Meat and camo compliments of Eva's (far right) family.
NINE:
Is your spouse a country gal/boy or a city slicker?l?
He loves the city but I'm WAY more city than he is.
She's a city girl with a love of country music.
(he said that second half rather begrudgingly...I'm slowly, slowly bring him to the love side of country music).
TEN:
Who is the "handyman" in your home? You or your spouse?
So this is a hard one because Kevin is handy with hanging anything on the walls, anything technology related and he was helpful with the whole pallet craft, see HERE, oh and side note, I picked up more pallet wood and I've got something awesome in mind for our next venture...but anyway...I'm handier in solving problems with home stuff sooo yeah that's my answer.
I guess that would be me but Veronica is very crafty and creative at building things.
(not a bad answer hubster!).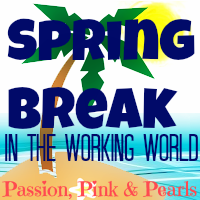 PS: TODAY is the second to LAST day of our spring break link-up! Hope some yall can join in last minute and for the rest of you, I'll be looking for posts to conclude the week on Sunday. Hope to see all yall's fun then. Click
HERE
for all the info.
and cause we always end this with a picture, husband and I when we first got the keys to our first place: