Today is a normal regular Wednesday.
Today I got the sweetest surprise from my husband.
It blew me away.
It reminded me of how loved and adored I am.
It reminded me how much I love and adore my husband.
You see, a year ago today, we were enjoying our last spring break.
And our last spring as an engaged couple.
We enjoyed those days off of class with simple activities and looking back into how our relationship began.
In particular we read through Kevin's digital diary, futureme.org
If you've never heard of it, you send diary entries in and then you can have it resend to you sometime in the future. Kevin had a ton from freshmen year mostly,
when he liked me but couldn't or wouldn't tell me on account of M( who you know about it you've been reading our story).
Today, the husband surprised me with one he wrote a year ago. I'm the luckiest wife! Truly Blessed.
The futureme entry:
Kevironica!
Today we looked at homes for our love nest. We're on spring break and loving every minute together. We just finished reading all of Kevin's FutureMe emails from freshman year, oh what a silly monkey he was. But now...we are in love.
Tomorrow is our fun day at the farmers market and surplus and picking up wedding invitations!
We have 73 days until the wedding! We just got our cups in the mail and we're so excited to nest together and be a family (with a puppy). You do have the puppy by now don't you?
52 days until we graduate!
You are married now!! ...Remind each other that you love each other deeply and truly, forever and always!
Love,
Engaged Kevin and Veronica
PS: DON'T FORGET Spring Break in the Working World!!
Don't miss the next few days:
(and if you missed the last two, post some pics anyway!)
Day One: Hit the Beach!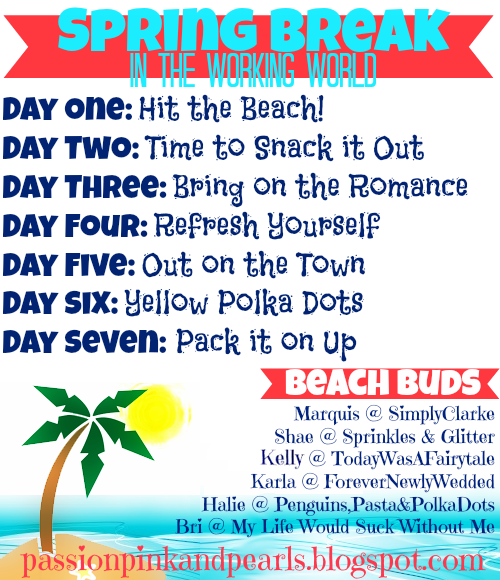 Wear your flip flops and shades. If they cannot be worn to work then break them out at home. Refuse to wear anything but flip flops
and sunglasses,
that is on your feet and face...don't be going nude yall.
Day Two:
Time to Snack it Out
You heard me right, break that diet today! If you were on a spring break trip right now you'd be eating some fried fish and ice cream. So grab your favorite snacks/ "junk food" and enjoy it!
Day Three:
Bring on the Romance
It's time you found your spring break fling...and by that I mean find your favorite beachy romance movie, kick your feet back and rest your sweet bum on the sofa.
Day Four:
Refresh Yourself
Bring down that dusty blender and serve up your favorite fruity drink, top it off with a tiny umbrella and ask your hunny for a massage.
Day Five:
Out on the Town
You've played in the sun and now it's time to bask in the moonlight. Grab your hunny or your gal pals and go do something fun like put-put!
Day Six:
Yellow Polka Dots
By now your tan is looking pretty smooth so it's time to strut your stuff in your swimsuit. No matter where you are, put that swimsuit on. If your weather is nice go outside, otherwise wear it around the house and pretend your bed is the ocean.
But please friends, don't be wearing it to work, it's probably not allowed and I will not stick up for you in front of your boss.
Day Seven: Pack it on Up
It's time to cram into the car and go home spring breakers aka clean that house and get ready for spring! I know, I know, but we all knew it was coming.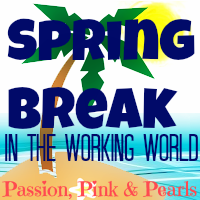 Grab the button and share the plans, let everyone else know!
Participate in each day's spring break fun and take pictures of it!
Post
the pictures of how you participated each day!
Instagram
some of the pictures!
Make sure to tag them:
#SBProStyle
(aka Spring Break Professional Style)
Link up
your blog
(not each post though, just your blog in general, the same link-up tool will stay up all week)
Follow
some of these lovely ladies
helping me out!
(see linky tool or Monday's post)
So Link-Up and Have Fun on Spring Break!