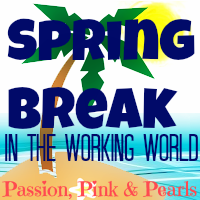 It's TUESDAY! Today, I've got sooo many great things to share! First off, we have a fantastic giveaway to celebrate one of my favorite bloggers, Marquis. Second, I've got a mini update of what happened this weekend. And finally, it's DAY TWO of blogger spring break!
What's that? You didn't know?
Yes, there's a blogger spring break going on right here. Don't miss out on each day's festivities,
just click here for the complete details and link on up below! PLUS don't forget about the fun going on in instagram world: #PBProStyle
Goodmorning Lovelies, today I'm participating in my very FIRST giveaway honoring the lovely Simply Clarke and Caroline Fireflies since they've reached 1000 followers!!! There's some AWESOME things to win here and I'm giving away one of my Interior Design packages!
To celebrate reaching 1000 followers, they have teamed up with some of their favorite bloggers to throw a huge giveaway in order to say thank you to their readers. Take a few minutes and show each of them some love.
ONE lucky reader will win over $400 + of goodies from these 24 lovely bloggers!
Check out each blogger below to see what they are giving away and show them some LOVE!
1. Simply Clarke - Ad Space & $15 design credit to Clarke Creative
2. Carolina Fireflies - Ad Space & $25 Etsy GC
3. Passion, Pink and Pearls - Pretty In Pink Interior Design Package
4. The Dwelling Tree - 1 Month In-Post Ad Space
5. Gratefully Inspired - Ad Space & Floral Journal from Joules
6. Mikaela Rae - Large Ad Space
7. Love, Laughter, Happily Ever After - 1 Month In-Post Ad Space
8. My Name Is Madeline - 1 Month Large Ad Space
9. My Beautiful Crazy Life - 1 Month Medium Ad Space
10. This Little Blonde - 2 Months "Sleeping Beauty" Ad Space
11. Caravan Sonnet -$10 Starbucks GC
12. The Life of a Not So Ordinary Wife - 1 Month Medium Ad Space
13. Hooah and Hiccups - 1 Month Large Ad Space
14. Walking in Memphis in High Heels - 1 Month Large Ad Space
15. Simply Free - 1 Month Ad Space
16. Back Home Again - 3 Months Large Ad Space
17. Faith Love & Babies - 2 Months Ad Space
18. XO, Allison - $20 GC
19. Wifessionals - 1 Month Small Ad Space
20. Life by Rikki - $10 Target GC
21. Chaos, Commotion, and Emotion - 1 Month Platinum In Post Ad Space
22. Classy Living - 1 Month Large Ad Space
23. Simply Southern. Simply Lauren. - Choice of any shirt from my etsy shop.
24. Virgin Monologuez - $10 Paypal Cash
RULES
1// Giveaway is open to US RESIDENTS
2// Winner will be notified via email on Wednesday 3/27/13 or Thursday 3/28/13.
You will have 48 hours from the timestamp on the email to respond, or a new winner will be chosen.
3// WINNER WILL BE VERIFIED!!!
4// View the Terms & Conditions listed on the Rafflecopter below
a Rafflecopter giveaway
This weekend

was a little different than normal....husband was home on Saturday!!! Finally, he finished with his two week stay in overnight shift land at work. Boy was I grateful to have him home!
On Saturday morning, while he slept and recooped, I took precious Paisley for a good 2 mile run then got ready for a baking extravaganza with the ladies from our newlywed/couples small group. We baked over 3 dozen cookies, oreo balls and bunnie munch mixes to hand out in the most precious little baggies with invites to our church for Easter.
Afterward, with husband FINALLY awake, he and I along with our sweet friends who
got engaged
a couple months ago, checked out OKC's outlet shops. They were fun and the weather was GORG!
On Sunday, I made green waffles for St. Patricks Day! (can't believe a year ago today we went on our first apt/home shopping and here we are married and living in one we saw!).
Then I hit the scrapping table and finished the honeymoon scrapbook! It feels so good to finally have it done and just be able to enjoy it. If you follow on instagram, you were probably sick of seeing updated about it. I also got started on a new way to organize and use scraps from scrapbooking paper so get excited about a post on that in the future sometime.
We went to evening church and were sure to wear lots of green. Overall, it was a great weekend spent with my hubby. I sure am glad to see his smiling face more and have cuddle time before we go to bed.
ps: be sure to keep up with the Working World Link Up! If you missed the schedule, check out yesterday's post! And be sure to tag all your instagram photos!
#SBProStyle