Friday means...
THE NEWLYWED GAME
!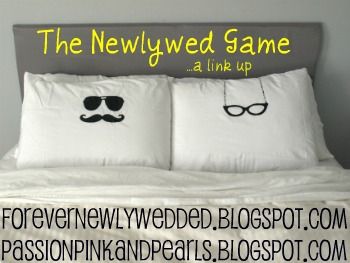 If you'd like to link up, simply...
1. Follow both the HOST & the CO-HOST!
2. Post the button above to your post.
3. Post the questions & your answers (hubby's included!).
4. Add your link to the bottom of the post .
5. Check out other's posts and comment...make some friends!!!
6. Save next week's questions, find them at the end of this post.
You can link up anytime from now til Sunday at midnight EST!
I'm excited to see your answers!
ONE:
What is your spouse's favorite animal?
Oh I've got this one in the bag, PENGUINS (they were even in our wedding yall...go see for yourself)
I know her non favorite is the ostrich...her favorite is Paisley!
(good answer hubster...ostriches are not from God, I've decided...)
TWO:
What does your spouse do..what's their occupation? Explain as much as you possibly can
Kevin is a ship navigator (voyage planner risk communicator, he corrected me) and what he basically does is help ships navigate around storms etc and help them find routes that will keep them in good weather and keep the ship and its contents safe.
She's an interior designer at OU where she handles any renovations or construction projects on campus...basically she's interior design superstar...note: she is a designer not a decorator, she doesn't just choose colors.
(Good answer, truth.)
THREE:
What is your spouse's favorite pro sports team?
Let's see, Dallas Cowboys and the Mavericks...course now that we live in OKC, the THUNDER is growing on him.
Probably the Houston Astros though I'm pulling her a little closer to the Dallas Cowboys with each season...but I will say I can't wait to go to an Astros game this summer, hopefully.
(except husband, the cowboys were awful this year and the Texans rocked it! So I might have to keep my heart grounded to my Htown loves)
FOUR:
If your spouse could retire anywhere, where would they choose?
Canada? Australia? Goodness, I don't know! (he said he'd choose a Caribbean island...way off)
Probably Florida, she loves the beach and the sun...and Disney World.
(agreed)
FIVE:
What is something on your spouse's bucket list?
See a Cowboys game from one of the super cool suites...or go to some tropical paradise and ride around in a helicopter like the bachelor got to do (haha)
I said Hot Air Balooning for an answer last week so I'll have to pick something else...I guess I could say the color run....
(husband really? How could you not remember seeing baby make their way back to the ocean! DUH plus I want to see a space shuttle take off...those are two we've talked about often...I mean I've even blogged about the turtles!)
SIX:
What is your spouse's favorite candy or sweet?
Starburst jellybeans. Yall he stocks up on them every Easter and portions them out for the remainder of the year...no joke.
Reese's hands down..but she also loves all things chocolate.
(now I want one...)
SEVEN:
What is something your spouse would love to have in their dream home? Like a specific room they want, etc.?
A movie theater room..or the mysterious "office" so he can actually put up all his sports memorabilia. I say "office" that way because anytime he has some random sports thing I tell him to store it away until he has an office he can put it in...to which he almost always declares, when and where is this office going to come?! there will never be a place for it!
Veronica wants a craft room with tons of built in organization and plenty of room to spread out.
(yes!)
EIGHT:
Who chose the wedding colors? Your or your spouse? What were they?
Oh well us both but it changed...like I said sunset colors but then took out red(his favorite) and then decided it had to come down to three colors and then decided coral should be the most prominent because it's my favorite...they were coral, marigold yellow, and tangerine orange.
Mostly Veronica but I was allowed to have input and coral was the prominent color but it was a sunset theme...so basically we had a pink wedding.
(I don't know how to respond to this...)
NINE:
If your spouse could only watch one movie over and over for a week, which one would it be?
Hhhmm I'd say the Lord of the Rings? or he wouldn't watch movies, he'd watch The Office over and over.
Probably Notting Hill or Pride and Prejudice
(true, all the way true).
TEN:
If your spouse could teach a monkey one trick, what would they have it do?
He would most definitely teach it to bring him a Dr. Pepper...like that commercial with the dog and the beer.
Veronica would teach the monkey how to pick up the house...
(I don't know what else you would teach a monkey to do...for serious).
Since I hate ostriches...yall I'm terrified...they took me to one of those zoos you drive through for my 19th birthday in college...then they bought me this plush ostrich for me...
And just cause that day was too great for not just one picture:
Your welcome blogger friends
Yes you too Kayla...you can thank me later...
Next weeks:
1. What is your spouse's favorite room in the house?
2. What was the first picture of you both? Where were you/when was it?
3. Describe a typical evening at home.
4. What is the most embarrassing thing that has ever happened to you & your spouse in public?
5. What do you like best about your spouse's personality?
6. When it comes to ________ my spouse would win first prize.
7. What is your spouse's best physical feature?
8. What is your spouse's most indispensable possession and why?
9. Do you think your spouse will be a good Mom/Dad (why or why not) or if you already have children, what makes your spouse a great Mom/Dad?
10. What is something that your spouse is optimistic AND pessimistic about?