Well lovelies, I was sick last week and this week my poor furbaby is sick so I'm not with it and I don't have our questions put together AT ALL.
I do hope you link-up your answers! And while you're missing Kev's and I's answers yall can check out part of our love story, about meeting his parents,
here
, and a funny story about having dinner with neighbors
here
...(and I'd love if yall would check out my Easter garland
here
...
complete shameless plugs
I look forward to reading yalls answers! Have a great weekend friends!


Now, it's time for the Newlywed Game again.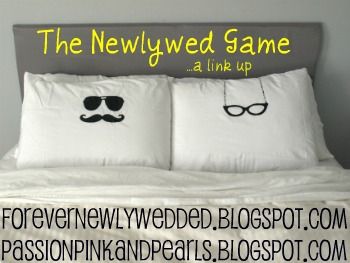 If you'd like to link up, simply...
2. Post the button above to your post.
3. Post the questions & your answers.
4. Add your link to the bottom of the post where it asks for your link.
5. Have fun checking out everyone else's answers!
You can link up anytime from now til Sunday at midnight EST!
I'm excited to see your answers!
The Newlywed Game #10
1. Where was the proposal? How did it all go down?
2. Name one thing that makes you similar to your spouse, and one thing that makes you totally opposite from your spouse.
3. When was your very first date? What did you do?
4. How many boy or girlfriends did your spouse have before you?
5. Complete the sentence: My spouse is a natural born _________.
6. Our marriage would be absolutely perfect if we could just agree on __________.
7. Which of these does your spouse have more of in your opinion? Sense of Humor, Sense of Time, Sense of Adventure, Common Sense.
8. Where is the oddest place you have ever shared a kiss with your spouse?
9. Complete this sentence: I knew I had found the love of my life when my spouse __________.
10. Explain the outfit you most love on your spouse. If you do a VLOG, have your spouse actually wear that outfit!!
Couldn't leave yall without a picture again so here's our sweet furbaby...like mother like daughter she loves the SUN!
ps: get excited about
Samantha
's awesome giveaway coming up MONDAY!