I am FINALLY participating in the this-n-that link up with Jenna at
Recently Roached
. If you guys haven't ever read Jenna's blog, you really should. I attribute her blog to making me fall in love with blogs...
and creating my own...and loving blogging
. She makes me laugh
every
single time. Not to mention, I actually know this lady! She went to OU and was part of Sigma Phi Lambda, with me. In fact, she was my pledge trainer when I was an itty bitty potential
(as we call it, a story for another day)
.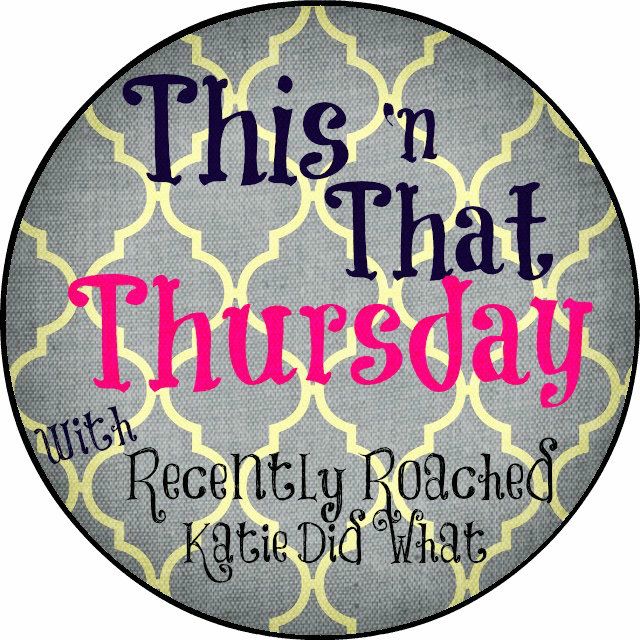 I was attending the gym real good here at the beginning of the month because I won this free month gym membership to the OU gym...it was awesome and I went with my co-workers till that darn nasty cold took over. Now my membership is over and I have to get my butt up and run in this awful coldness (except, I kind of have to take that back because it's been semi-nice out lately!).
My hubby and I had our first night of our church small group last Thursday and this Thursday will be the second time...pray for us please? We are BIG newbies to this whole leading-a-group-together thing. I talked about this yesterday.
My sweet but disobedient puppy thinks it can bark at this-n-that

(and yes, it's okay to mock me for that one)

randomly. The spray bottle approach isn't working...any advice people?
moments like these make it hard to discipline her
This was our superbowl party spread...pretty awesome if we do say so ourselves( I say we because husband was very much apart of this...in fact he decorated the cake! all I did was the green icing).
That husband of mine is the sweetest man I've ever known! He did laundry and grocery shopping yesteday, he puts up with my cranky butt, and he watches the bachelor with me...and loves me every day! I love you hubster! #newlywedlife
Husband said this,"I miss going to Phi Lamb dances with you, that was fun," this week and I agree. #onlythingImissaboutcollege #PhiLamberforever

(k maybe not the only thing...but I loved it!)
Not too long ago I had discovered that my right hand developed carpal tunnel, you know cause every 22 year old gets that, and this chiropractor has made a believer out of me. I am completely healed! No steroids no surgery, just the chiropractor....I stand amazed. #trustingmychiropractor #chiropractorbeliever
That I've used lots of hashtags in this post...and in facebook statuses lately...and they don't "link" to anything and I don't have a twitter and I don't want one and that's okay... #don'tcare #I'mstillawesome
Last Friday, I co-hosted the Newlywed Game Link Up, and good news friends, this will be a weekly feature on this little blog! Yay for making new milestones! Here are the questions for this week:
1. How long were you dating your spouse before getting engaged?
2. Do you remember your first big fight, if so, what was it about?
3. Who said "I love you" first?
4. What is your spouse most afraid of?
5. Who uses more hair-care products?
6. Who initiated the first kiss? How was it on a scale from 1-10?
7. You are on your way out, and need to turn around because someone forgot something... was it you or your spouse who most likely forgot something?
8. Who takes longer in front of the mirror? You or your spouse?
9. What would your spouse name your children if you had one girl & one boy?
10. If you were able to give away one thing that your spouse owned, what would you choose?
and the rest of my post was going to be a diy on how to make a Valentines Wreath out of t-shirt fabric but life happened and I didn't get to it...sorry, come back Saturday! I'm hoping to have it up by then!