Remember, the Newlywed Game link-up
that started last week? Well, I'm at it again, and this time
drum roll please...
as a CO-HOST! I'm so beyond ecstatic! I have enjoyed following
Karla's blog
for quite some time now and I'm so honored that she's asked me to participate in her link-up.
Anyway, I hope you pretty people join in on this great link-up! Even if you can't get to it till late tonight, link up your answers! We love to read them. Don't forget, you want to make sure and get your hubby's answers in here too. Even if that means, asking him the questions aloud and typing his answers in..
that's what I do, haha.
Here's the dealio: each week Karla will post questions for us to answer which we'll post on Friday. Make sure to distinguish between your answers. For mine, look for my answers in
PINK
(duh)
and Kevin's answers in
BLUE
(I know we're super creative)
.
So, it's time for the Newlywed Game again.
A lot... & I mean A LOT of you linked up last time...
& it was only the first link up... so you guys blew me away!
Come link up again, I promise it will be super super fun!
So, grab your honey, cuddle up, & answer these questions!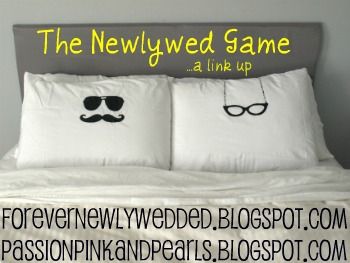 If you'd like to link up, simply...
1. Post the button above to your post & link it back to me!
2. Post the questions & your answers.
3. Add your link to the bottom of the post where it asks for your link.
4. Have fun checking out everyone else's answers!
You can link up anytime from now til Sunday at midnight EST!
I'm excited to see your answers!
The Newlywed Game #2
ONE:
What was it about your spouse that made you think they were "the one"?
Goodness, what a tough question. I think I have to say the way he worshiped the Lord and how he became my best friend and how he took care of

(sorry couldn't pick one)

. From the beginning, I admired the way Kevin worshiped Jesus in church...it's beautiful to me to see a man raise his hands. But also, for the entire first year of knowing each other Kevin was simply my friend...he became my best friend and as we became a couple the way he took care of me just blew me away... and took me by surprise constantly, and he always did it with such love and selflessness that could come only from Christ.
The ease of her being my best friend and her motherly tendencies.
(a my motherly tendencies...glad those came in handy FINALLY)
TWO:
What is your spouse's most annoying habit?
Well let's see...the way he gets stressed when I drive aggressively...that irritates me...
Ummm, there's not very many...leaving clothes out.
(I've never heard about this...)
THREE:
Does your spouse have to sleep on "their side of the bed" and if so which side (if you're lying on the bed looking at the ceiling)?
Oh absolutely! I think this was probably dictated by me though. He sleeps on the right side.
Yes, left side.
(man knows his place... ;) haha)
FOUR:
How are you planning on spending your Valentines Day? (simple or outrageous?)
We don't know exactly yet...together :)
Simple, dinner and some fun times together.
(I'm not sure what fun times means....)
FIVE:
Who usually ends up trying to resolve an argument (aka being the "bigger person"?
My man is usually best at this. I'll go sulk off and stop talking...which is weird because I think when we were dating it was the other way around.
Uhhh me? I can't handle Veronica being mad at me, or me being mad at her.
(did I marry a sweet man or what?)
SIX:
How many kids do you plan to have one day, if any?
We would like two but not for a good while...I'm good waiting, I just got a puppy people!
Two, no more, no less.
(but we rely on God's will, right hubster? lol)
SEVEN:
What is your spouse's best friend's name? And do you get along with him/her?
Trey Ingram, no never. Haha, just kidding! Although at the beginning, Kayla and I would call Trey mean, he's grown on me over the years ;) and he's marrying one of my best friends sooo I have to like even more!

(next week, more info on them!)
Rachel, Kayla, Kristina and Emily...I consider them all my friends too.
(fact, kevin would hang out at our apartment and talk into the night with all four of us. It was great!)
EIGHT:
If your spouse one day told you they were an ex-convict, how would you react?
Laugh out loud and roll on the floor...my hubby is a SERIOUS rule follower.
With shock and great surprise.
(I feel like we're listening to the moderator when playing mafia (the card game) tune in monotone voice, and the towns people woke up shocked and outraged...)
NINE:
Do you wish your spouse would stop doing a particular routine?
I can't really think of anything on this...oh wait, yes...I am determined to move past eating pop-tarts everyday for breakfast at some point...I seriously have no idea how I'd explain to our one-day kids that dad can eat them everyday and they can't...#mustendthis
Not anything I can think of...I thought about making us brush our teeth all the time but that's not really a routine, all the other routines I just think are cute :).
(It's true, I make him brush his teeth anytime after he's eaten something I consider stinky (like Ranch...ugh it is awful) before I will even come close to kissing the man, he used to keep a toothbrush at my apartment for this reason alone.)
TEN:
Did the honeymoon go exactly as planned?
So funny story, sorta kinda...this is too long and personal of a story for the world wide web but let's just say there was a visit to the urgent care. Oh yeah, and there was a lot of rain, I would have liked to cut that out but overall it went fabulously!
No there was rain and a trip to the urgent care but it was lovely.
(We answered the same, ah good memories)
* Here are next week's questions! *
1. How long were you dating your spouse before getting engaged?
2. Do you remember your first big fight, if so, what was it about?
3. Who said "I love you" first?
4. What is your spouse most afraid of?
5. Who uses more hair-care products?
6. Who initiated the first kiss? How was it on a scale from 1-10?
7. You are on your way out, and need to turn around because someone forgot something... was it you or your spouse who most likely forgot something?
8. Who takes longer in front of the mirror? You or your spouse?
9. What would your spouse name your children if you had one girl & one boy?
10. If you were able to give away one thing that your spouse owned, what would you choose?
**Be sure to come back and link-up!!!**