We woke up to a beautiful sunrise this cold Friday morning...ready for the weekend!!!
...but before that....
it's time for

THE NEWLYWED GAME

!
So copy&paste the questions, answer them up and link in!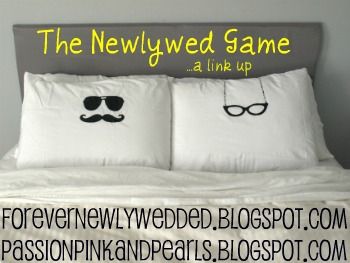 If you'd like to link up, simply...
1. Follow both the HOST & the CO-HOST!
2. Post the button above to your post.
3. Post the questions & your answers.
4. Add your link to the bottom of the post where it asks for your link.
5. Have fun checking out everyone else's answers!
You can link up anytime from now til Sunday at midnight EST!
I'm excited to see your answers!
ONE:
In your opinion, who has the better in-laws? You, or your spouse?
Well that question is a little unfair...I mean both of them read this...haha just kidding! I think it just depends, when we want to go somewhere warm, my family, hands down (they live in Florida and when we want to go somewhere cold, Kevin's family (they live in Wisconsin)...okay, okay all jokes aside, I can't really pick. My family is way more active, we're constantly on the go and Kevin's family is more relaxed and that's really nice at times...so in my opinion, it depends on the mood/feeling.
Mmmmeeee, wait you, you have the better in-laws because you have Bella has an in-law .
(oh dear goodness, Bella is the family dog from his side)
TWO:
Who decided on the wedding song for your first dance and what was it?
That would be probably both of us. Side Story, Kevin wanted to wait to say, you're the love of my life, till he really, deep down, completely honest, felt that way. It was something special his parents would say and they had a song for it. He waited until that perfect moment and he sang the song to me when he was ready to say it. It was such a sweet memory and so we decided to play as our first dance song.
I suggested it but it was a mutual decision and it was the love of my life.
(sweetly said)
THREE:
Which song would say is your spouse's theme song and why?
This is super hard....I really don't know...
I don't know what to say...
(clearly we aren't good at this)
FOUR:
What is the first thing your spouse takes off when they come home from work?
To be specific his coat and glasses...but then his shoes.
Uummm, your scarf and/or shoes.
(I thought he was going to say my bra, might be little tmi...but that thing is so stuffy sometimes, am I right ladies?)
FIVE:
Fill in the blank. When it comes to __________, I definitely wear the pants in this relationship, but when it comes to _________. my spouse totally wears the pants.
For me, home needs such as cooking or design or organizing...Kevin is awesome at organizing our finances and making sure all our loans are paid off and right.
When it comes to technology, I definitely wear the pants but when it comes to all things home related, Veronica wears the pants.
(ahh yes technology, this is true, I like to think I'm not half bad at technology and then I have to get a listen from hubster on how to play a dvd in our home and I feel 90 years old)
SIX:
What is one thing you could do that would make your spouse the happiest in the world?
Well let's see, keep him up to date on his preferred technology

(see the Him&Her page)

and make a 3-course meal every day.
I know the answer! Give her chocolate and a clean house everyday.
(haha this is actually a great answer!)
SEVEN:
What is the most unusual thing you've ever found in your spouse's pocket/purse/briefcase?
Gosh I really don't know! He doesn't carry much other than a wallet and phone...and his briefcase is pretty simply packed as well. I'm sure there were interesting things in his old college backpack from time to time but I'd rather not think about what could be found in there.
Ummm hhhmmm...

(asking the dog first, stating she searches through those things the most)

I can't think of anything strange...
(fact)
EIGHT:
In your opinion, does your spouse communicate best through talking, touching or eye contact?
I'd say talking with eye contact.
Talking, cause you don't always make eye contact to communicate.
(talking to me here, I ask the question aloud and type his answers in)
NINE:
What would your spouse ideally want your future children to do for a living?
Whatever they want! Okay, more like I want them to work in an area that allows them to live out their God given potential

(we throw that phrase around a lot at our church, basically living into the gifts God's given)

.
I feel like we've talked about this before but I can't think, like wouldn't it be cool if our kids were this... but since I can't remember, I'll say doctor so you can get all your medical questions answered.
(I really have no clue what we've discussed in the past other than maybe our kids should work for some resort chain so we can go all over the place lol...I do have lots of strange medical things, it's sorta weird, I get all the things no normal person has ever heard about, thank goodness I have Kayla).
TEN:
If you were blind folded and need to pick your spouse out of a crowd what would you search for? PG People, please.
So let's see ... his fuzzy hair and his voice.
I would search for her voice or her laugh
(I do have a rather distinctive laugh).
BONUS QUESTION:
Assuming you were expecting something a little special for Valentine's Day (as in yall planned on doing something, giving something, etc), how did your spouse do? Share it! Again, PG people, please.
He totally surprised me, like I said yesterday, I was anticipating 4 roses this year BUT goodness gracious did husband out do himself for his first married Vday...I got a pretty bouquet in a vase and everything delivered to my office...huge surprise! We had a great dinner and later that night I also got the most giant reese's heart you've ever seen, AMAZING.
My spouse did great, we had a sweet dinner together and dessert.
Valentine's Day 2013
(another one of our epic camera timer shots)

Don't forget to save these for next week:


1. Who does the laundry in your home, you or your spouse? Any good stories?

2. If your spouse had to eat at one restaurant for the rest of their lives, what would he or she pick?

3. Are you or your spouse better at cooking? Any good stories?

4. Which one of you is more concerned about their "fashion"?

5. Ideally, if you don't have them already, when does you spouse want to have children?

6. Who planned dates when you were dating? And what was one of your favorites?

7. What's been the toughest part of being a newlywed?

8. Who is the best with the finances?

9. Who is the strict one?

10. What will you plan to do for your first anniversary? Or if you've already celebrated your first anniversary, what did you do?


PS: Interested in one of the funniest moments I've witnessed in my life? Read about how my friend, Saxon and her almost-husband sort-of began their relationship here.




<!--EndFragment--