So, it's time for the Newlywed Game again.
Come link up again, I promise it will be super super fun!
So, grab your honey, cuddle up, & answer these questions!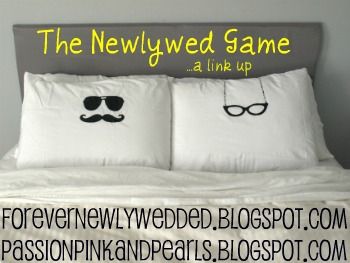 If you'd like to link up, simply...
1. Follow both the HOST & the CO-HOST!
2. Post the button above to your post.
3. Post the questions & your answers.
4. Add your link to the bottom of the post where it asks for your link.
5. Have fun checking out everyone else's answers!
You can link up anytime from now til Sunday at midnight EST!I'm excited to see your answers!
The Newlywed Game #3
ONE:
How long were you dating your spouse before getting engaged?
22 months...In fact I posted to facebook, 22 months ago Kevin asked me to be his girlfriend, today he asked me to be his wife.
The timeline is always a trouble, 22 months.
(a sarcastic man...he knew the answer to this immediately)
TWO:
Do you remember your first big fight? If so, what was it about?
Well I thought our first big fights was when we were hanging out with friends and he didn't stand up for me but I guess our argument on dates came first.
Uhhh, how many dates we went on. I wanted a weekly date night but that didn't work with Veronica's schedule.
(Interior design sorta takes over your life in school... as we ID people like to say, I can't I have studio)
THREE:
Who said "I love you" first?
He did! On our first monthiversary, Kevin took us down to the lake and we laid out under the stars

(expect the full story on Mondays as I write our story )

, and he just looked at me and told me he loved me. It was sweet
I did by the lake on our first monthiversary.
(I have a romantic man <3)
FOUR:
What is your spouse most afraid of?
Well hhhmm I don't know...maybe of not getting out of debt ever? But we will...I'm confident.
I want to say dark waters like oceans, lakes and pools when it's dark outside.
(this is true but I'd probably say the dark in general)
FIVE:
Who uses more hair care products?
Me for sure...I got the typical hair spray and hair poofing stuff

( I don't know what to call it, I use it sometimes to keep my hair teased a bit I guess you could say)

.
Veronica by far, well by infinity, because I use zero.
(Is it weird that I've always want to try out hair gel on him?)
SIX:
Who initiated the first kiss? How would you rate in on a scale of 1-10?
Well right after telling me he loved me,
he started tickling me, your classic tickle fight, and leaned over and kissed me for the first time. It was such a sweet and romantic moment, I say 10!
I initiated our first kiss, but it was a 4 because I missed her lips...but we quickly gave it a second try, and a third, and a fourth...YEP.
(After our first kiss me, he felt bad and asked for a chance to get a second try, of course I said yes!)
SEVEN:
You're on your way out and have to turn around because someone forgot something, was it you or your spouse that most likely forgot something?
Well I think I'd have to say me....it's always my phone or coat or lunch or whatever...but as I think about Kevin forgetting things...well he does often come right back inside after leaving for work and I often have had to take his cup or lunch to work to him when he forgot it (thankfully he's on the way to my office).
Most likely....well probably me, I wanted to say Veronica but really I think it's got to be me. I have to turn around and get stuff in the morning all the time, I feel like I'm the forgetful one.
(fact)
EIGHT:
Who takes longer in front of the mirror? You or your spouse?
Well me, longer hair, make-up, etc...but I don't take a super long time.
My spouse.
(Nice babe, can't even say my wife or Veronica...my spouse...)
NINE:
What would your spouse name your kids if you had one boy and one girl?
Lequarius or Dejuluis...haha just kidding but he likes to joke about those names...Dejulius is his rapper black man character when he cooks in the kitchen (not in a racist way, btw) but we've actually discussed this in full and we like Bryant and Aubrynn...we had our dog's name chosen for a long time so I think we'll might just keep these names...no one take them! ;)
Aubrynn and Bryant...wait, I don't know if we're divulging those.
(I was a little hesitant but they're names, you can't pick a name that NO ONE has...well you know what I mean).
TEN:
If you were able to give away one thing of your spouse's what would it be?
So let's see like maybe 90% of his shirts?!?! Oh but just one? Maybe his big black basketball shoes (you heard about these in the first part of our story).
It used to be her pillow....now? hhmm I guess her granny pants?
(I loved that pillow, I wrote a love farewell letter to my pillow even here...as far as those pants go, well they're pajama pants but their fleece and baby pink and faded and elastic and I love them cause they're comfy but Kevin hates that I call them my granny pants).
Here are next weeks questions!!
one: In your opinion, who has the better in-laws? You, or your spouse?
two: Who decided on the wedding song for your first dance? What was it?
three: Which song would you say is your spouse's theme song & why?
four: What is the first thing your spouse takes off when they come home from work?
five: Fill in the blank. When it comes to ______ , I definitely wear the pants in this relationship, but when it comes to _______ , my spouse definitely wears the pants.
six: What is one thing you could do that would make your spouse the happiest person in the world?
seven: What is the most unusual thing you ever found in your spouse's pocket/purse?
eight: In your opinion, does your spouse communicate better with talking, touching, or eye contact
nine: What would your spouse ideally want your current/future children to do for a living?
ten: Keeping this as PG as possible... if you were blindfolded, and need to pick your spouse out of a crowd, what would you search for? .