That's right, today I'm going extra crazy! Friday's Letters and the amazing Newlywed Game Link-Ups! Here we go!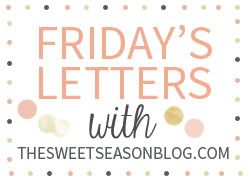 Dear Friday
, wahooo!!! SO glad you're here!!!
Dear bloggy friends,
I'm on
FACEBOOK
! It's true, I gave in...so do me a favor and
LIKE
my brand new page (let me know you did, and I'll like you back!). ps, Instagram is becoming so much more a part of my life, and since I don't do twitter, I'd love to connect with you there! Find me @mrsveronicaburns and leave me a comment so I can follow you!
Dear Saxon,
Thanks for sharing one of my all time favorite relationship beginnings stories, if yall missed it, check it out
here
.
(ps, readers: You can read about my hubby and I's relationship beginnings stories on mondays or under the Life&Love page)
.
Dear
Tenille
and
Nikki
,
I'm SO stoked to have won your giveaway...so excited!!! speaking of giveaways, I must have caught the lucky bug...HUGE thanks to
Katie at Unwritten
, and
SarahJane at Just the Two of Us
and
Stephanie
. and forever ago I won a lovely photo frame from
Quall's Quirks. Dear bloggers,
Go check out my
bestie
! She got a blog and is writing about her adventures of teacherness and what Christ is doing in her life.
Radiantly Redeemed
...don't miss it!
Dear Husband
, you attributed
this song
to Paisley this week and it made my heart melt....I don't even care of it's incredibly cheesy of us to think of our furbaby that way.
Dear best girlfriends,
that's it. I'm putting my foot down, I haven't seen you all together in too long and I'm just done with the apartness. We need girly time, we need mega stuffed oreos and we need us all in one location ASAP. Got it?
Dear book I'm reading
, how come I love reading but never feel like picking you up to read? I need an afternoon to just sit and read you...I'm sure I could finish you in an afternoon...need disciplining.
Dear bloggy friends,
Join up on the Newlywed link up!!! See below. Link up anytime between now and Sunday! We read all your posts and comment...#promise
Dear Paisley,
you've stolen mom and dad's hearts, we adore you!
And now, it's time for
THE NEWLYWED GAME
!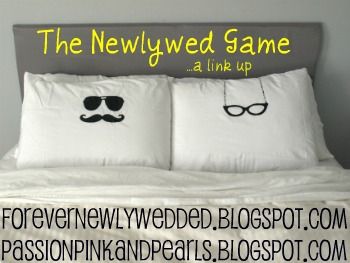 If you'd like to link up, simply...
1. Follow both the HOST & the CO-HOST!
2. Post the button above to your post.
3. Post the questions & your answers (hubby's included!).
4. Add your link to the bottom of the post .
5. Check out other's posts and comment...make some friends!!!
6. Save next week's questions, find them at the end of this post.
You can link up anytime from now til Sunday at midnight EST!
I'm excited to see your answers!
ONE:
Who does the laundry in your home, you or your spouse? Any good stories?
That would be Kevin. Since he's home Sunday through Tuesday, he volunteers to do that and grocery shopping so that our one weekend day together, Sunday, is spent enjoyable together, not doing chores. Story wise, besides the one he mentioned, not really...
I DO! There was one time five pieces of chocolate went through the dryer in the load of whites...
(and I rescued it with OXI CLEAN MAX POWER, at the suggestion of my coworker... it works miracles!)
TWO:
If your spouse had to eat at one restaurant for the rest of their lives, what would he or she pick?
Kevin would probably pick Cheddars...he said it's one of his choices, he can't choose one.
Hhhmmm, Olive Garden....
(This was a question we answered at small group, LAST WEEK! My answer was actually Sweet Tomatoes, who's with me?)
THREE:
Are you or your spouse better at cooking? Any good stories?
This is EASY. Me, totally, all me. One time, I set up Kevin with a new recipe I found on pinterest involving crescent rolls (like the Pillsburry kind in the can). I thought it was be a simple, easy one for Kevin to try...false. While I'm at work I get a gmail chat pop up, HELP! What do I do? It's all in one roll. He was talking about the crescent rolls...well that comment alone was awesomely hilarious but I go ahead and explain how there are dotted lines and you tear at those lines and they'll be little triangles and how you roll them up from there. It seems like all will go well from that point. I go to the chiropractor after work, tell them the story, and get home to find out that in fact Kevin did not ever understand the crescent rolls, and proceeded to tear off chunks of the dough from the tube form it came in...not even exaggerating yall. I about die laughing, there is no containing it...I probably teased him for the rest of the evening...which got worse when we watched some tv show and no joke, a commercial comes on showing a lady unrolling the dough roll, tearing at the lines and forming the crescents...oh goodness I'm laughing even now. My coworkers and the chiropractor office laugh about it to this day.
Veronica is definitely the better cook, I mess up the simplest things, like crescent rolls.
(best story of our newlywed life to date (see my answer))
FOUR:
Which one of you is more concerned about their "fashion"?
Oh me, for sure.
Veronica, she's more concerned about her fashion and my fashion.
(haha, well truly spoken...though what he didn't say is he's enjoyed his new fashionable wardrobe I've helped form)
FIVE:
Ideally, if you don't have them already, when does you spouse want to have children?
Ten years...if he could have it his way...that would make me 33...I'd like to try before that.
Six to seven years.
(sounds good)
SIX:
Who planned dates when you were dating? And what was one of your favorites?
Kevin did and one of my favorites would be...hhhmmm... possibly the first monthiversary where we cuddled and looked at the stars, talk, sang, and had our first kiss.
Mostly me but Veronica planned some fun ones too. My favorite was going to the Florida aquarium together and meeting the penguins.
(haha that was fun, we went on spring break, and Kevin looked like a kid on Christmas morning he was so excited to meet penguins and touch them!)
SEVEN:
What's been the toughest part of being a newlywed?
I think choosing to serve Kevin when I really don't feel like it...for example cooking a meal when I get home, even when I'm tired.
Raising a puppy..
(he was sick the first few days we had her, he was miserable)
EIGHT:
Who is the best with the finances?
Kevin. We use MINT.COM and I love that.
Probably me but not because Veronica is bad at that but I like to manage and organize that aspect of our life.
(and I like to let him manage and organize it...well we budget together, and discuss things together, he just makes sure all our bills and loans are paid on time)
NINE:
Who is the strict one??
Oh Kevin. Hands down. I call him the Rule Follower often. He has on more than one occasion been called such by airport security even...he waits at the line when they check my ID instead of standing up there with me...silly man.
Me...Veronica calls me the Rule Follower
(see told ya!).
TEN:
What will you plan to do for your first anniversary? Or if you've already celebrated your first anniversary, what did you do?
We hope to spend at least one night away and go to a nice dinner.
We're going to spend two nights somewhere within driving range, TBD
(most recently we've been discussing OKC, real close to home).
BONUS QUESTION:
Assuming you were expecting something a little special for Valentine's Day (as in yall planned on doing something, giving something, etc), how did your spouse do? Share it! Again, PG people, please.
We answered this last week, so check our answers there.
This sweet girl graced us with her presence in the office yesterday since her daycare was close due to our cold wintry mix. I put my safety glasses on her and she was just too cute not to take a picture of...so great! If you're on instagram, you already saw my picture but her mom caught her smiling so I put her version up.
***Don't forget to save these for next week***
What advice would you give a friend who found out that he/she is getting married?
Do you have a pet name for your spouse? If so, what is it?
What are 3 things that your spouse cannot live without?
What is your favorite date idea? (something you have or haven't done)
Is there a book or movie that reminds you of your marriage with your spouse?
If so, which one and why?
Rate the very last kiss you had with your spouse. How was it on a scale of 1-10?
What was the very first thing you noticed about your spouse when you first met?
What was the very first gift your spouse ever gave you?
Is there anything you sacrificed when you married your spouse? If so, what?
What would your spouse say is the funniest photo of you?
Try & describe the picture, or post it below!