Hey friends! Tomorrow we are continuing our Newlywed Game Link-Up. Don't forget to chit chat with you hubby and answer those questions up! You're bound to have fun and learn something new.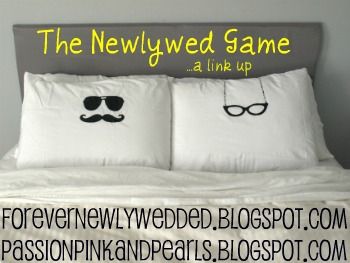 I know there's some really awesome Friday link-ups out there already
(like Friday's letters, my personal fav)
, but you can do both! You can link-up your post anytime between Friday morning till Sunday, so if you miss out on Friday don't worry post it later in the weekend. You really don't want to miss out on this fun link-up/opportunity to get the husband involved on the blog.
Plus, Karla and I intentionally make time to read everyone's post and comment sincerely. We have both just LOVED getting to know you guys and we get to laugh A LOT...and if you're readers of Karla or myself, you know how much we like to laugh. :)
What are you waiting for? Copy & Paste these questions into a brand new post and come back to one of our blogs to link up on Friday (Saturday or Sunday).
This Week's Questions:
What advice would you give a friend who found out that he/she is getting married?
Do you have a pet name for your spouse? If so, what is it?
What are 3 things that your spouse cannot live without?
What is your favorite date idea? (something you have or haven't done)
Is there a book or movie that reminds you of your marriage with your spouse?
If so, which one and why?
Rate the very last kiss you had with your spouse. How was it on a scale of 1-10?
What was the very first thing you noticed about your spouse when you first met?
What was the very first gift your spouse ever gave you?
Is there anything you sacrificed when you married your spouse? If so, what?
What would your spouse say is the funniest photo of you?
Try & describe the picture, or post it below!
...and a little #ThursdayThrowback for ya:
I love this song back in the day...
which goodness, why does it seem so faraway now?
***Bonus points to those of you who actually know all the lyrics! haha